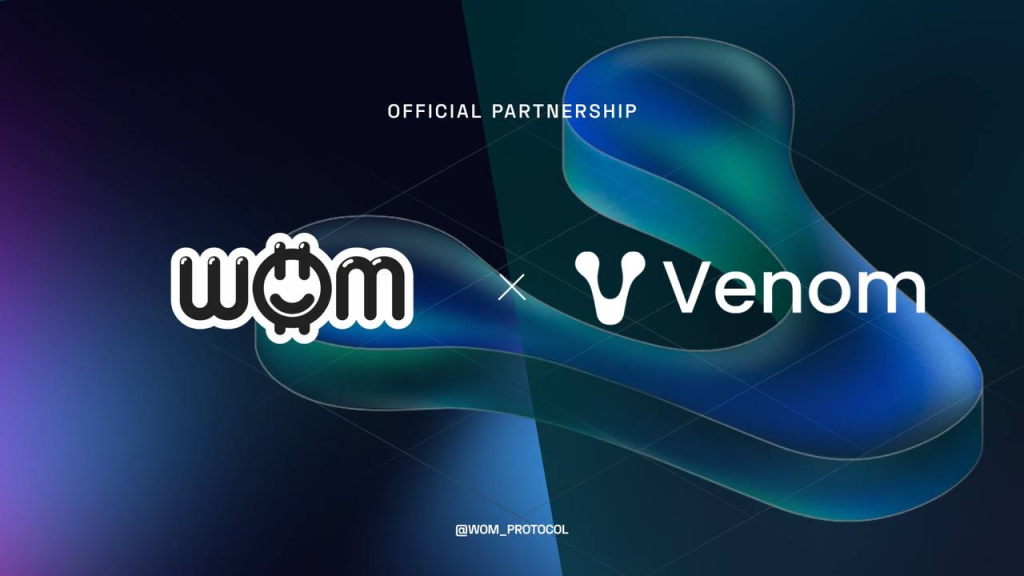 WOM Protocol, the Web3 marketing solution replacing traditional ads across web2 and web3 with user-generated content, is thrilled to announce that it is the first project to receive a sizeable grant from Venom Foundation, the world's first Layer-1 blockchain licensed by Abu Dhabi Global Market (ADGM). 
The grant will support the ongoing decentralization of WOM Protocol's BULLZ product range, by enabling WOM to migrate its former challenge.bullz.com product to the newly launched bullz.io, where Venom Foundation will integrate its blockchain infrastructure into the BULLZ Challenge Launchpad. The BULLZ Challenge Launchpad is a tool that enables Web3 projects and creators to airdrop tokens and NFTs to communities in exchange for creative contributions.
The strategic partnership furthers the WOM Protocol's mission of replacing the online advertising industry, which is projected to reach $209.43 Billion in 2027, ​​​​up from $178.29 billion in 2022 (Digital Advertising Global Market Report 2023), with Web3-based user-generated marketing, that not only captures value for its creators but provides social capital for advertisers, while giving platforms a user-friendly monetization model.
The WOM Protocol enables advertisers to find, track and reward word-of-mouth recommendations while rewarding creators based on their content engagement and quality ratings. The Protocol includes:
The WOM Authenticator app, which authenticates recommendations across all WOM-integrated platforms;
The WOM Campaign Manager, which enables advertisers to find, track and access word-of-mouth recommendations by spending WOM Tokens;
A Shopify app;
An underlying payment protocol that automatically rewards creators, authenticators, publishers, and platforms in WOM Tokens.
Advertisers benefit from the credibility and authenticity that creators provide, ensuring a transparent and equitable advertising ecosystem that aligns the interests of creators, brands, and platforms. The protocol's "to-earn" tokenomics is based on existing user behavior, as recommendations are made 2.1 billion times daily. WOM is already live and tested, having processed more than 27,886,895 transactions in 2022 alone, with more than 185k aggregated WOM videos passing "authentication", or peer review of content to date. WOM has meanwhile scaled its ecosystem of BULLZ marketing technology products for Web3. These include:
The "TikTok of Crypto" BULLZ app, which enables creators to get rewarded for recommendation videos;
The BULLZ Campaign Manager, which gives brands access to UGC from the BULLZ creator network;
Bullz.io, which activates project community members to get creative and contribute towards marketing campaigns.
The Venom blockchain, which will be integrated into the Challenge Launchpad on BULLZ.io, is an asynchronous chain that uses a state-of-the-art dynamic sharding technology while maintaining decentralization, scalability, and security. Venom Foundation provides the essential infrastructure enabling startups to grow within a regulated and scalable environment. The Foundation's primary focus is on technologies in the MENA region that provide easy and secure migrations to Web3 for both private and public organizations and governments, while also handling massive transaction volumes with no increase in network latency or costs. 
In January 2023 the Venom Foundation launched the Venom Ventures Fund in partnership with investment management firm, Iceberg Capital, to allocate $1 billion towards investing in Web3, blockchain, and cryptocurrency projects and services. The WOM Protocol is one of the first projects to receive a grant from this fund.
With the strategic partnership and investment into WOM, Venom Foundation will also be able to introduce its network of startups across the MENA region to the WOM Protocol as a new content marketing tool. As WOM expands its infrastructure across multiple platforms, it will continue to prove the adoption of word-of-mouth rewards as a replacement for traditional advertising.
Daryll Caspar Netscher, Chief Strategy Officer at Venom Foundation, said: "At Venom we are dedicated to bringing investment, infrastructure, and incubation to exciting Web3 projects with real utility. We see a major opportunity for the WOM Protocol and its products to disrupt and decentralize the advertising industry and we look forward to seeing the impact unfold."
Melanie Mohr, Founder & CEO of WOM Protocol, said: "We are proud to be the first Web3 startup to receives a grant from Venom Foundation to continue evolving and decentralizing our project. Advertisers are realizing that they won't get their ROI in Web2's attention economy any longer and thanks to the support of prestigious partners such as Venom we can provide brands with the MarTech tools to unlock the powerful Web3 creator economy."
About the WOM Protocol
WOM (word-of-mouth) Protocol is a blockchain-based protocol that gives brands, content creators, publishers, and social networks a way to monetize word-of-mouth recommendations on any website, app, or platform. Seasoned investors back WOM from around the globe. For more info about WOM: https://womprotocol.io
About BULLZ
BULLZ is scaling an entire ecosystem of Web3 MarTech products. These include BULLZ, a dedicated app for creating and discovering authentic blockchain and crypto-related recommendations, the BULLZ Campaign Manager, which gives brands access to UGC from the BULLZ creator network, and Bullz.io, a token and NFT airdropping tool, which activates project community members to get creative and contribute towards marketing campaigns. With the "create to earn" model, users are rewarded with WOM Tokens for creating and rating authentic recommendations directly within the app. For more information: https://bullz.com
About Venom Foundation
Venom is the first licensed blockchain operating under the jurisdiction of the ADGM, with a license to issue utility tokens. The ADGM is an oasis for investors and financial services firms, positioning Venom as the world's first compliant blockchain, affording authorities and enterprises the freedom to build, innovate, and scale. A portfolio of in-house dApps and protocols has been developed on the Venom blockchain by various companies. It now harbors the potential to become a bridge for the adoption of CBDCs in the Middle East, North Africa, and worldwide. For more information on Venom Foundation, visit: https://venom.foundation/
The Post WOM Protocol Makes History as Inaugural Grant Recipient of the New $1 Billion Venom Foundation Fund, Set to Catalyze the Venom Ecosystem first appeared on ZEX PR Wire
Information contained on this page is provided by an independent third-party content provider. Binary News Network and this Site make no warranties or representations in connection therewith. If you are affiliated with this page and would like it removed please contact [email protected]